The Biden Administration's decision to force National Guard troops to remain in crowded, poorly ventilated conditions has resulted in almost 200 COVID positive service members. Several others have been placed under quarantine. The new administration has faced criticism for their treatment of the troops assembled in the Nation's Capitol to maintain order during Joe Biden's Presidential Inauguration on Wednesday.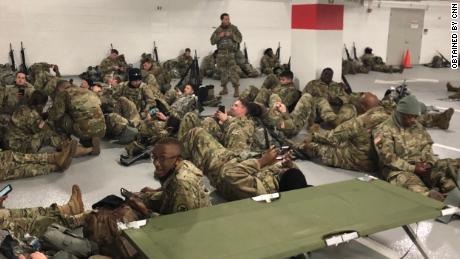 One National Guardsman told Politico, "they packed us together like sardines in buses and rooms for this," adding, "We did not get COVID tests on arrival."
Several conservative media outlets have reported on the deplorable conditions the service members faced after being thrown out of the Capitol Building and being forced to stay in a parking garage as temperatures dipped into the high 20s at times. However, most traditional media outlets have largely ignored this egregious situation, with Biden's Press Secretary, Jen Psaki, mentioning only that First Lady Jill Biden had given the troops cookies as a gesture of appreciation.
Originally, it was reported that Capitol Police had removed the National Guard troops from the Capitol Building and relocated them to the parking garage. However, according to a report by the Associated Press, "Capitol Police Interim Chief Yogananda Pittman issued a statement Friday saying her agency 'did not instruct the National Guard to vacate the Capitol Building facilities.'" It is still unclear exactly what entity from the Biden Administration made the call.
Wednesday's Presidential Inauguration had all the markings of a "super-spreader event," with lawmakers ignoring social distancing guidelines as they hugged and, at times, were seen unmasked. President Biden himself violated his own Executive Order requiring a mask mandate while on federal land shortly after signing the order. Biden was photographed inside the Lincoln Memorial unmasked. He also failed to wear a mask as he signed his Executive Orders inside the Oval Office.
Press Secretary Psaki failed to comply with the mask mandate during her press briefings, despite being inside a Federal building at the time. When asked by a reporter about President Biden's failure to comply with the mandate, Psaki replied by saying the President has "bigger issues to worry about."
After hearing of the unconscionable conditions the troops were being exposed to, President Donald Trump opened up his hotel to any servicemembers in need of a warm, comfortable place to stay in between their 12-hour shifts.
Freshman Rep. Madison Cawthorn (R-NC) surprised troops with pizzas to show his appreciation for the work they were doing, while being in sub-par conditions.
Several Republican governors have ordered their National Guard troops to return home based on the poor conditions, including Florida Governor Ron DeSantis, Texas Governor Greg Abbott, and New Hampshire Governor Chris Sununu.